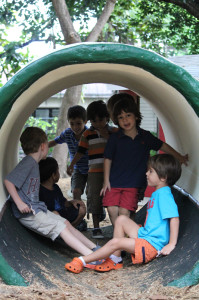 Welcome to Plymouth Preschool! It's the kind of school where parents can feel that they are part of their child's first educational experience; where we're more concerned about whether parents read to their children than about whether the children themselves are reading; more concerned with children being good friends than good students; more concerned with the growth of the whole child than with any particular aspect of it.
Plymouth Preschool is an integral part of Plymouth Congregational Church and because we use their facilities to provide a broad program, we make monthly contributions towards buildings and grounds. If you are an active member of another church, we hope your child's experience at Plymouth Preschool will complement their weekend church school program. If you have no church home, we invite you warmly to come to our Sunday services and to any of our other meetings and activities. Information about the church is available in the Preschool office or the Church office.
We hope that you and your child will soon feel very much at home at Plymouth Preschool. Plymouth is a really special place; where a teacher will help her whole class make a special get-well picture for a classmate who is sick at home; where office staff members vie for the privilege of bandaging a child's scrape, or entertaining a baby brother or sister who has come to the office with mom or dad…
where parents get together to plan the building of a special piece of playground equipment; where parents enjoy evening get-togethers to hear an expert talk about reading readiness, discipline, or self-esteem;
where a church personnel dons a Santa Claus costume on the day before Christmas holidays and gives each child a shiny red apple from his sack; where the church ministers join in on all-school events and enjoy refreshments with the children; where rich organ tones drifting across campus and the beauty of flowers and trees becomes inseparably intertwined with children's concepts of school and learning;
where a preschooler in the quiet of chapel says to his classmates, "Listen; I think I hear God talking!"; where children enjoy being themselves and are accepted with open arms for being just the way they are!
Welcome to Plymouth Preschool!
Annie Booker , Preschool Director