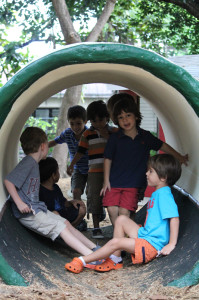 Dear Parents,
Welcome to Plymouth Preschool! Our school has been a beloved fixture in the community offering excellence in early childhood education for the past fifty-nine years. We are located on the beautiful, lush grounds of Plymouth Congregational Church. On this campus, children are surrounded by a truly magical outdoor space to run and play.
We offer accredited, high-quality early childhood programs where play is the foundation for the children's learning. Our school uses a researched-based curriculum that fosters the love of learning through child-directed, and teacher-guided, learning activities. The focus is on the growth of the whole child and recognizes each child as a unique individual.
Our trained, loving, and dedicated teachers provide a safe and secure environment to build healthy, positive relationships with the children and with their peers. We have an open-door policy and appreciate the invaluable input from our parents—we encourage your participation.
Plymouth Preschool is an integral part of Plymouth Congregational Church and because we use their facilities to provide a broad program, we make monthly contributions towards buildings and grounds. If you are an active member of another church, we hope your child's experience at our Preschool will complement their weekend church school program. If you have no church home, you are warmly welcome to attend our 10 a.m. Sunday services and any of our meetings and activities. Information about the church is available in the Preschool office or on Plymouth's website:  http://www.plymouthmiami.org/.
Again, welcome to Plymouth Preschool. I look forward to meeting you and your children.
Blessings,
Lynn D'Agostino, Preschool Director